Bringing To You A
Tech Driven Revolution
The world is changing every minute with the growing space
of technology in our personal as well as business lives. And businesses
no more adhere to basic IT software and hardware services.
We Provide Additional Services
We are geared to deliver comprehensive marketing solutions for your brand. We go the extra mile in everything we do with a simple mantra – analyze, strategize and maximize results! Whether you're looking for a turnkey strategy or services specific to a short-term campaign, we can be your digital partner offering the solutions you need.
Social Media
Social Media Strategy
Product / Service Campaigns
Event Promotions
Community Engagement
Digital Content & Video
Multi-language Content Production
Video Production
Graphic and Web Design
Blogs and Marketing Collaterals
Search Engine Optimisation
Keyword Research
SEO Content Creation
On-Page Optimization
Technical SEO
Pay Per Click
PPC Strategy Development
PPC Research
Campaign Setup
Social Media Ads
Web Design & Development
Sitemap and Architecture
Website Design
Mobile Responsiveness
Convenient Navigation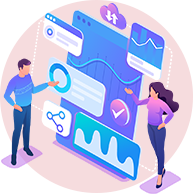 Other Services
Content Writing
Printing Stationery
Graphic Designing
The Third Vertical Your Digital Marketing Partner
Based in Mumbai, The Third Vertical is a full service digital marketing agency. We are a team of experienced marketing experts who work with insight, strategy, creativity and technology to help your brand make the most of marketing opportunities across a variety of channels in real time.
From content creation to communication, design to digital marketing, we create customised solutions for your marketing needs. Our focus is to help you reach your target audience, increase your brand awareness and design ROI based digital marketing campaigns that deliver outstanding marketing results for you.
We offer different type of portfolio
We've worked with reputed brands across industries. Each client has a different requirement and we provide unique solutions for every project. From short duration engagement campaigns to creating brand awareness we've delivered on various marketing requirements with results.